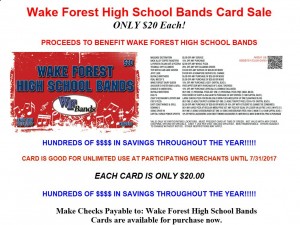 Band Families,
Our 2016-2017 Booster Discount Card sale will run from Thursday, July 28th through Thursday, August 18th.  Our goal is to have each student sale 5 discount cards at $20 a piece.   Assuming we sell a minimum of 251 cards total,  each student will receive $10 towards their Fair Share account for every card they sell!  We need everyone's help towards reaching this goal!  Cards will be distributed to students, Thursday July 28th at the end of rehearsal practice.  Cards are valid from August 1, 2016 through July 31, 2017.
Again our goal is for each student to sell 5 discount cards. In the event they are not able to sell all 5, we ask that any cards not sold, be turned back into the band room Thursday, August 18th as all unsold cards must be returned to the Booster Club Card company we are working with.   We are liable for any unsold cards not returned.
Here are the discounts
WAKE FOREST HIGH SCHOOL BANDS BUSINESS LIST 2016
MERCHANTS
OFFERS
DOMINO'S
BUY ANY LARGE PIZZA AT REGULAR MENU PRICE GET ANY PIZZA OF EQUAL OF LESSER VALUE FREE (143 S. WHITE ST.)
SONIC DRIVE-IN
BUY ONE (1) SONIC CHEESEBURGER GET ONE (1) SONIC CHEESEBURGER FREE (1925 S. MAIN ST. & 12508 CAPITAL BLVD.)
CAPITAL HONDA POWER SPORTS
10% OFF PARTS & ACCESSORIES–$100 CREDIT TOWARDS ACCESSORIES IF A MOTORCYCLE ABOVE $1499 RETAIL PRICE IS PURCHASED
CHILI'S
FREE ORDER OF CHIPS & SALSA WITH PURCHASE OF ANY ENTRÉE (11380 CAPITAL BLVD.)
CICI'S PIZZA
BUY ONE (1) ADULT BUFFET & DRINK GET ONE (1) ADULT BUFFET FREE (12516-101 CAPITAL BLVD.)
WAKE FOREST DAIRY QUEEN
10% OFF ANY PURCHASE (12271 CAPITAL BLVD.)
SHUCKER'S OYSTER BAR & GRILL
FREE APPETIZER WITH PURCHASE OF 2 ADULT ENTREES
LA FORESTA ITALIAN CAFÉ & PIZZERIA
$2.00 OFF ANY WHOLE PIZZA
ZIGGY'S RESTAURANT & SPORTS BAR
LARGE CHEESE PIZZA FOR $9.99 (VALID MON-TUES-WED)(PICK UP ONLY)(SAVINGS $5.00)
BACK ALLEY COFFEE ROASTERS
10% OFF ANY PURCHASE
MASSAGE DESTINATION
$5.00 OFF ANY SERVICE
TOP NOTCH CAR CARE CENTER
$10.00 OFF ANY SERVICE OF $50.00 OR MORE
EAST COAST WINGS & GRILL
$5.00 OFF ANY PURCHASE OF $20.00 OR MORE OR 10% OFF WITH STUDENT ID (CANNOT BE COMBINED)
TRIANGLE DRY CLEANERS
20% OFF ANY DRY CLEANING ORDER
CHARLIE'S KABOB GRILL
10% OFF ANY PURCHASE (SPECIALS & COMBOS EXCLUDED)
JIFFY LUBE
$10.00 OFF A SIGNATURE SERVICE OIL CHANGE
BUFFALO BROTHERS
$5.00 OFF ANY PURCHASE OF $25.00 OR MORE
BUFFALO BROTHERS
BUY ONE (1) PERSONAL PIZZA GET ONE (1) PERSONAL PIZZA FREE (MAX. $8.59)
REAL MCCOY'S
$5.00 OFF ANY PURCHASE OF $20.00 OR MORE
Please contact Craig Compton at vp@wfhsbands.com for additional information.