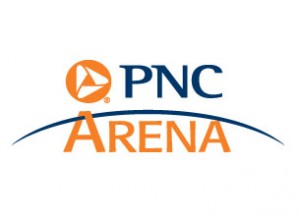 Volunteering at PNC Arena
During the months of September  through April, our Wake Forest High School Band Boosters run a fundraising opportunity to work at PNC Arena.  We provide the opportunity for our parents to volunteer at PNC where we staff a concession stand for events including concerts,  Hurricanes hockey games,  NC State Basketball games, and more.   Working at PNC is a great opportunity to contribute  funds towards your student's Fair Share account and  help to offset YOUR marching band or other band related expenses.  Most of the profit from this activity goes directly to your student account with a small percentage going to the Band Booster general fund. We currently have one stand  that we staff  at PNC where we typically staff two volunteers.    As a part of this program, we have a set number of events at PNC we are required to work.
Working at PNC is not hard work and can be a lot of fun! It is a great opportunity to meet some of the other band parents, members of the community, and other high schools parents.
UPDATE:
While PNC is a good opportunity for earning funds towards the individual student's Fair Share account,  we have continued to struggle with filling our allotment of events and meeting our overall PNC commitments.  We  are currently assessing how best to continue this program by scaling back the number of events we commitment to or postpone this activity for the 2016-2017 season.
That said, in order to continue the program, our first order if business is to secure a parent volunteer to take over the coordination role of getting parent volunteers signed up for PNC events.
If this is something you are interested in taking on or learning more about, please email Craig Compton at VP@wfhsbands.com.  We will need to have a coordinator identified by middle to late July in order to continue with the PNC program in 2016-2017
Additional Details:
Please see the enclosed document describing 2015-2016 PNC Center Information including "What to wear";  "Rules at a glance"; "Parking" ;  "Lockers" ; and "Step by Step Procedures".
Thank you so much for your consideration of the PNC program!